"Despite sporting success he remains humble" – the 'Dwarf Giant' rightfully occupies a piece of history that will take some beating
Wanheng Menayothin retires with a 54-0 record
Wanheng Menayothin retires with a 54-0 record
Boxing's tiniest champion had its fattest record. He was "one of the best fighters in the world" but nobody saw him fight – now after 54 wins in a row he has vanished quietly into the darkness.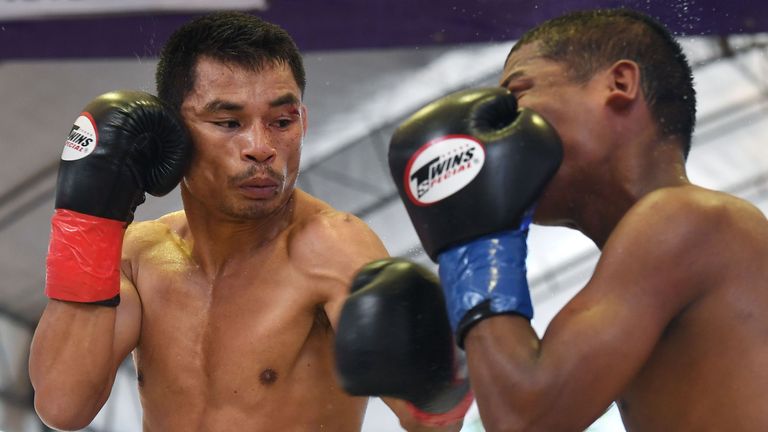 Wanheng Menayothin, the WBC minimumweight champion from Thailand, has retired with his stat-busting 54-0 record intact but frustratingly before ever making the US debut that was promised when he signed to Oscar De La Hoya's Golden Boy Promotions. His unique and unusual record warrants scrutinising.
Sponsored link
Recommended by
Is he harshly treated or vastly overrated? Nothing about Menayothin makes sense – he is the dominant force in his division but also has gaping holes in his career and obvious questions to answer. With help from those who know him in Thailand plus his promoters in the US who did not see retirement coming, Sky Sports have unravelled the full story about the man behind those mythical numbers.
Menayothin last fought in October 2019
Menayothin last fought in October 2019
Menayothin fought all 54 times in Thailand
Menayothin fought all 54 times in Thailand
Floyd Mayweather's 48th win was in the richest fight of all time against Manny Pacquiao – Menayothin's was in a six-rounder against Jack Amissa who had already lost 44 times. Menayothin surpassed Mayweather's famous 50-0 record two years ago by beating Pedro Taduran, perhaps his greatest win, before adding three more victories for good measure.
And that is the crux of comparing numbers on a sheet of paper. Of course Menayothin could rack up 100 unbeaten fights without ever being comparable to the achievements of the mighty Mayweather, who became a five-weight world champion and household name.
Menayothin's 54-0 record counts for something, but what exactly?
His retirement, aged 34, brings an oft-asked question into sharp focus now. His record is a mish-mash of beating genuine top contenders and weird time-filling six-round bouts against no-hopers.
The frustration is that, last year, he penned a new promotional deal with Golden Boy and planned to fight in the US, outside of Thailand for the first time. It was an opportunity to expand his horizons and for people for finally to judge him for more than the numbers. That will no longer happen.
"He was set to make his US debut in April, we were excited about that but obviously it didn't happen," Golden Boy president Eric Gomez told Sky Sports before Menayothin's retirement.
"When you have a fighter like him with a remarkable record, it is very exciting.
"A few years back we heard of him. He has an incredible record."
Golden Boy insisted he was the real deal and they planned to prove it: "That's the idea. To expose him in the US. To get him publicity in the US, because he really is a terrific fighter. He's very, very good. The best guy in his division. He's one of the best fighters in the world."
At first glance it seemed a smart move. The minimumweight division is dominated by boxers from Asia and Central America, and although Golden Boy have zero minimumweights currently on their books, they hold sway with boxers from the Central American market.
"There are a lot of fighters in Mexico, as well," Gomez explained. "He's in a weight division that you normally don't see in the States. But the attraction of the undefeated record? People in the US will be interested to see him."
Regrettably, now they won't.